Trusted Tile Roofing Contractors at John's Roofing
Installing a tile roof on your home can make a tremendous visual impact – and with the right materials and installation, you'll have a durable, sturdy, and long-lasting roof that you may never need to replace.
Our tile roofing contractors strive to provide quality work using premium materials within budget and deliver on time. That's why John's Roofing owner inspects every job that we're called to. All of our valued customers are entitled to a wide number of benefits, including:
Affordable roof repair rates
Free written estimates
Fully licensed and insured contractors
Easy appointment scheduling
At John's Roofing, we are here to help get the job done. Free roofing estimate: Call (469) 394-4386 or submit an online form.
The Complete Guide to Tile Roofs
Tile roofing materials are reliable and have long lifespans – in fact, they last much longer than standard asphalt roofs do – and they can create unmatchable aesthetics. If you're thinking about installing a tile roof on your Dallas-area home, this guide can help you make the right decision. And as always, you can call our office with any roofing questions; we'll give you all the answers you need, plus a customized quote.
Types of Tile Roofing Materials Used in Dallas-Area Homes
Tile roofing performs exceptionally well in hot weather, and it stands up to the sun's harmful ultraviolet rays as it protects your home. The most common types of tile roofs are:
Clay
Concrete
Slate
Metal
Composite
Synthetics
Here's a closer look at each.
Clay Roof Tiles
Clay roof tiles are some of the oldest roofing materials used – and though they're not normally handcrafted like they were in the past, the finished product is truly spectacular. These heavy tiles can provide superior protection to your roof, but they do need to be installed by experts who have experience with these materials.
Concrete Roof Tiles
Concrete roof tiles are heavy and strong, and they can provide exceptional protection for your home. They're generally easy to maintain and keep clean. These tiles require a reinforced roof structure (just as many clay roofs do) because of their weight.
Slate Roof Tiles
Slate roof tiles are, like their clay and concrete counterparts, very heavy. They can break with hard impact, but the look they create is unmatchable. They're made from natural slate and are incredibly ecologically friendly alternatives to many other roof types.
Metal Roof Tiles
Metal roof tiles can be exceptionally lightweight while providing fantastic protection from the elements. The most commonly used materials for metal roof tiles are copper, zinc, aluminum and steel. As you may expect, these tiles can be noisy during rainfall (some people love the sound, and others don't). The drawback to these beautiful tiles is that they may dent easily. Though they don't provide much insulation value, some people prefer their aesthetics to other types of tile roofing materials.
Composite Roof Tiles
Composite roof tiles are made from a mix of natural and synthetic materials. John's Roofing expert can talk to you about the various types of composites available if you're interested – many come with spectacular manufacturer warranties, custom color mixes, and more.
Synthetic Roof Tiles
Synthetic roof tiles are those designed to look like natural materials while being made from other things, such as concrete. You can get synthetic slate, clay, and even wood. One of the main advantages of synthetic roof tiles is that they're often lighter and more durable than the materials they mimic. Our roofing consultant can help you choose what's right for you.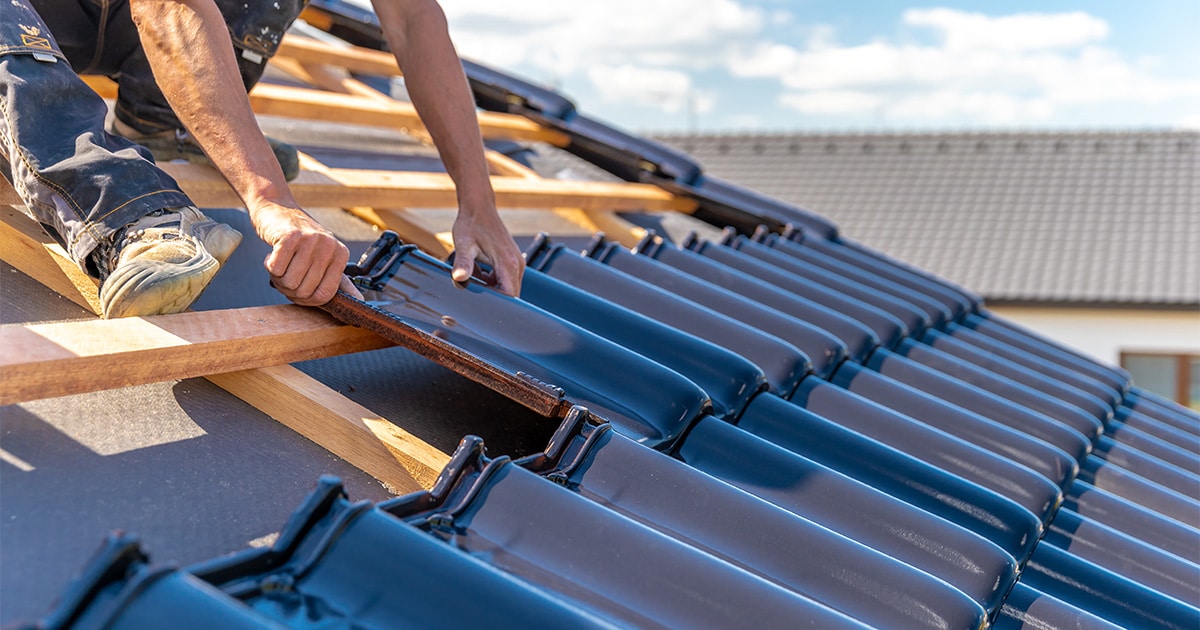 How Long Does a Tile Roof Last?
If a tile roof has been installed properly, and if you choose the right materials, it can last up to 50 years – and that's longer than many people own their homes. (And for the record, there are buildings in Europe and Asia with tile roofs that are centuries old.) For example, slate roofing tiles have been known to last over a hundred years on homes in the Americas, and terracotta tiles in the Southwest are right up there with them.
John's Roofing expert will talk to you about all your options and make suggestions based on your home's style. Your consultant will also discuss your budget, how long you expect your roof to last, how much maintenance your desired materials will require, and how strong your home's structure is (and whether it can support heavy roof tiles such as those made from clay, concrete or slate).
How Much Does a Tile Roof Cost?
The cost of a tile roof depends on several factors, including the materials you choose, whether you have features on your roof such as chimneys, skylights and solar panels, and how large and steeply pitched your roof is. Because there's no way to give a ballpark cost without seeing your roof and discussing your choice of materials, John's Roofing will send an expert to your home to talk about your options. Generally speaking, the table below outlines average costs across the United States.
Are Tile Roofs Environmentally Friendly?
Many types of tile roofs are environmentally friendly. Slate, for example, is all-natural and can be repurposed after it reaches the end of its lifespan, and metal roofs are made to be ecologically friendly. If you're interested in creating a green home, your John's Roofing consultant can talk to you about which options will be best for your needs.
Are Tile Roofs Energy-Efficient?
Not all roofs are created equal – some are far more energy-efficient than others are. However, the fact remains that your roof is one of the largest outside components of your home, and the materials you choose have a direct impact on how energy efficient your entire home can be. Your roof can block out heat and hold cool air in, and it can do the opposite during colder months; as a result, your tile roof will affect how much money you spend on monthly heating and cooling costs.
Research has shown that tile roofs can create a cooler home – and the lighter the color, the more heat the roof will reflect. Generally speaking, clay tiles can reflect about 75 percent of solar energy; that's more than metal roofing can reflect. Naturally, every type of tile is different, and the colors and materials you choose will play a big role in how energy efficient your home will be.
However, the bottom line is that a new roof almost always improves energy efficiency in a home. If your roof is more than a few years old, great advances in roofing technology have taken place – and that means that a new roof is more likely to save you money on utilities in the long haul.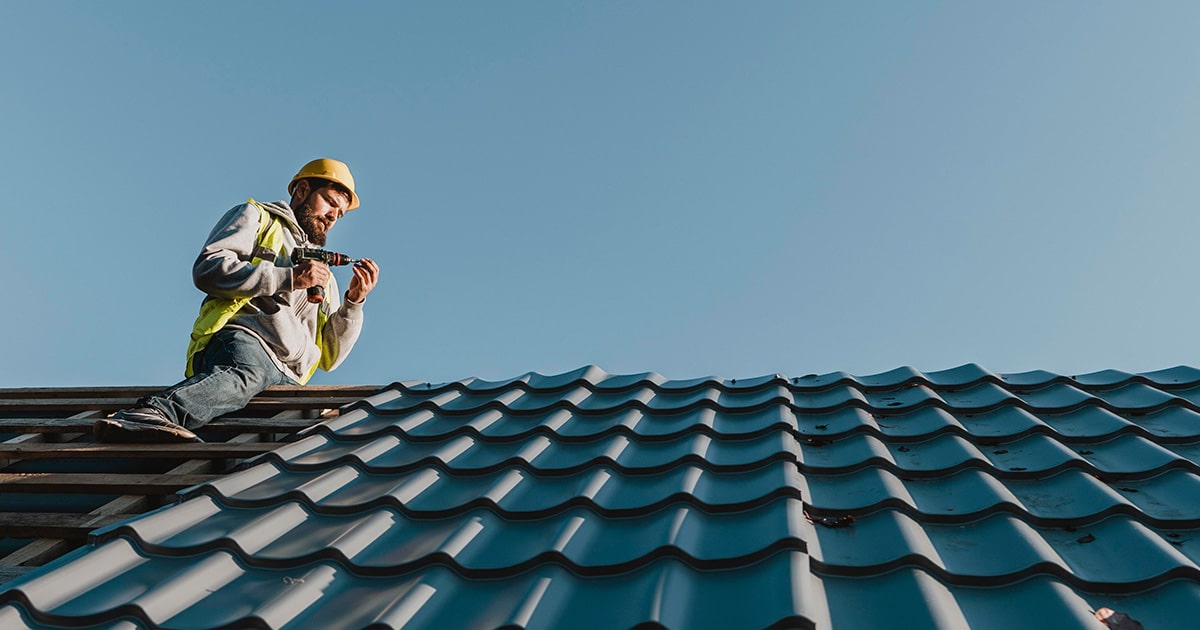 Is It Easy to Maintain a Tile Roof?
For the most part, maintaining a tile roof is easy. However, some types of tile are more fragile than others are – and that means you shouldn't walk on them unless you're a trained professional. Generally, the most you have to do is have your roof professionally inspected once a year, remove debris when you see it, and keep the roofing materials free from moss or mildew growth (which typically only happens in shady spots).
Do You Need to Talk to an Expert About Installing a Tile Roof?
Whether you're building a new home from the ground up or you're improving your existing home, John's Roofing can help you create the perfect look. Call our office today for a free consultation with a tile roofing expert in Dallas and the surrounding communities.
Free roofing estimate: Call (469) 394-4386 or submit an online form.