Asphalt Shingles Roofing at John's Roofing
John's Roofing specializes in residential roofing services including asphalt shingles roofing and can expertly recommend the best shingles roof installation for your property. We are a trusted Dallas roofing contractor with decades of experience in the industry.
We are here to help get the job done. Free roofing estimate: Call (469) 394-4386 or submit an online form.
All About Asphalt Shingles Roofing
Asphalt shingles are the most common types of roofing materials on residential homes. Designed to protect a house from water, wind, snow and ice, and other weather conditions, these types of shingles are affordable and reliable – and that makes them an excellent choice for roofing materials.
There are several types of asphalt shingles available, including strip shingles, dimensional shingles (often referred to as architectural shingles) and luxury shingles.
Strip shingles are also known as three-tab shingles because of the way they're cut. These are the most basic type of asphalt shingles, and they're made from a single layer of asphalt. These shingles have a very flat appearance, and they're generally lighter than other types. Strip shingles also cost less (because they're made from just one layer of asphalt).
Dimensional shingles are commonly called architectural shingles. They're sometimes called laminate shingles, too. These are the most common type of shingles – you've probably seen them on several Dallas-area homes, and you may even have them yourself. These dimensional shingles are actually made from two to three layers of asphalt, which are fused together to create a thicker, richer, multi-dimensional appearance. Usually, these types of shingles are designed to replicate other materials, like slate or wood shakes. Architectural shingles are heavier than three-tab shingles are, and generally, they come with significantly better warranties.
Luxury shingles are the highest-quality asphalt shingles available. These types of shingles offer exceptional protection against the elements, and they're available in a huge range of styles and colors. They tend to create the most realistic replications of wood shakes and slates, as well. They're tougher than the other types of asphalt shingles as well.
Benefits of Asphalt Roofs
Asphalt roofs can help fight algae growth, resist hail and other environmental conditions, and even sometimes come with cool roof color technologies that help reflect the sun's heat (and lower homeowners' energy bills). Asphalt shingles are naturally fire-resistant, too, which means they may be the smartest choice for your home.
You should speak with a professional roofing consultant at John's Roofing if you need to repair or replace your roof – the expert you talk to can help you make the right choices when it comes to materials. We'll consider your budget and your goals to ensure you're getting exactly what you need.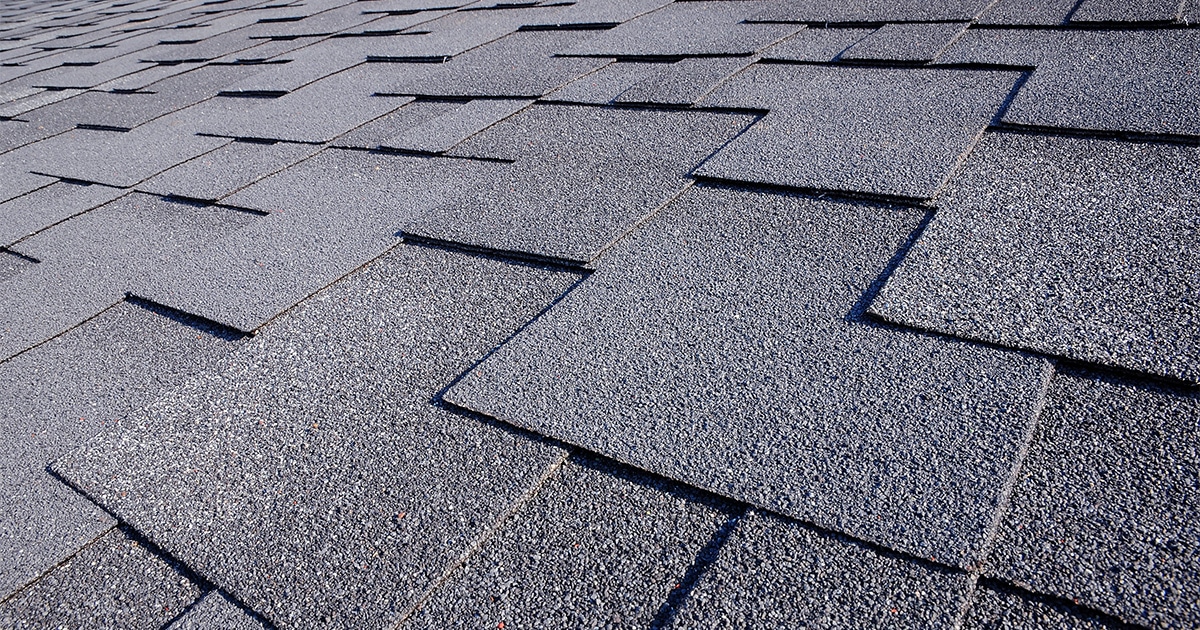 How Long Does an Asphalt Roof Last?
A standard asphalt roof can last for 20 to 30 years, though some materials last longer. Generally, a roof's lifespan depends on several factors, including the quality of the installation, the materials used, the materials beneath the shingles, the types of maintenance you've performed on it, whether any repairs have been made, and the types of weather events it's been exposed to.
If your roof becomes damaged at any point, it's absolutely essential that you make repairs immediately. The sooner you repair a roof problem, the less likely it is to spiral out of control (and the less it will cost you). If you avoid making roof repairs while problems are still small, there's a very good chance that the damage will increase – and you'll become more likely to have to replace your entire roof.
As a general rule, when you see your neighbors start installing new roofs, it's time to start thinking about yours.
Shingles Roof Installation at John's Roofing
Our professionals strive to provide quality work using premium materials. That's why the company owner inspects every job that we're called to. All of our valued customers are entitled to a wide number of benefits, including:
Affordable roof repair rates
Free written estimates
Fully licensed and insured contractors
Easy appointment scheduling
At John's Roofing, we are here to help get the job done. Free roofing estimate: Call (469) 394-4386 or submit an online form.
Asphalt Shingles Roofing Repair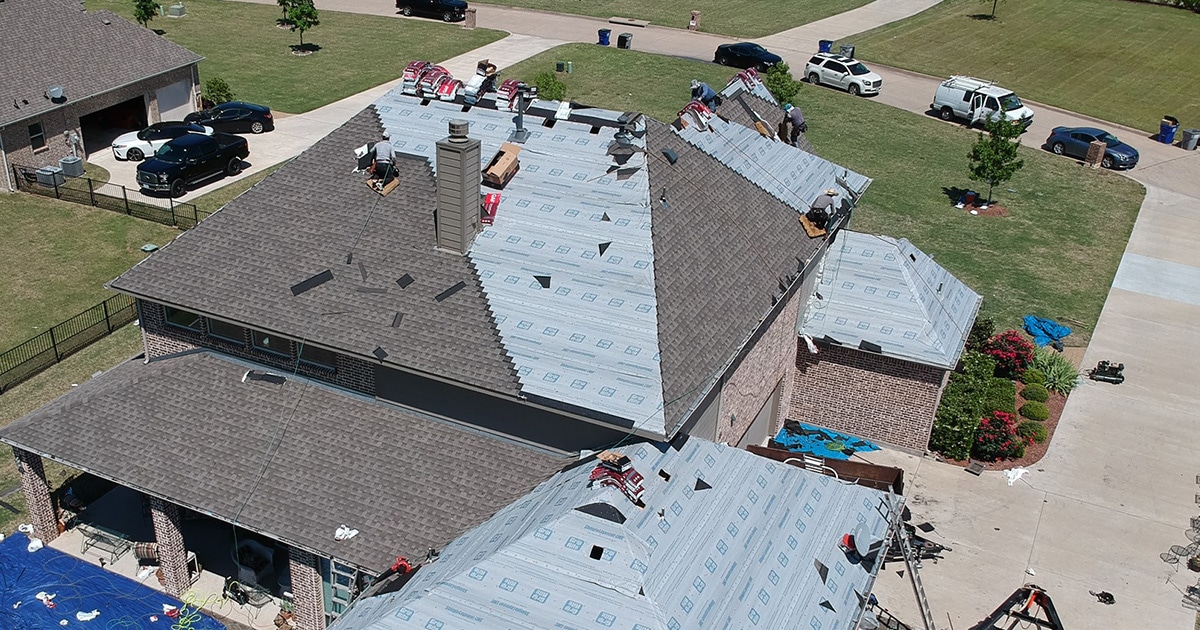 Signs of Damage on an Asphalt Roof
All roofs age, and eventually, they all need to be replaced. However, sometimes roofing materials get damaged – whether it's due to storms, wind, hail or other conditions, such as flying debris. You should have your asphalt roof inspected by a professional each year, and you should check for these issues periodically on your own:
Cracked, curled or broken shingles
Missing shingles
Water stains on ceilings
Cracked, blistering or bubbling paint on fascia
Bald spots on shingles
Visible leaks inside your home
Evidence of moisture damage in your attic
Do You Need a New Shingles Roof, or Just Repairs? 
It can sometimes be difficult to discern whether you need a new roof. However, these telltale signs are indicators you may need a roof replacement:
Leaky roof. This is most noticeable when water leaves stains on the interior ceiling of your home. You can also check the attic for stains.
Storm damage. Damage from wind and hail often shows as cracked, lifted or missing shingles.
Time. If it's been over 20 years since your current roof was installed, chances are your roof is nearing the end of its lifespan.
Benefits of a New Asphalt Shingles Roofing 
Aside from providing increased protection against harsh weather conditions, a new roof can greatly benefit your home. Check out these common reasons that help people decide it's time for a new roof:
A new roof may increase overall property value. If you're looking to sell or refinance your home, a roof replacement can give buyers the confidence they need to make an offer. Most buyers know that asphalt shingles roofing will last between 20 and 30 years, so they know they won't need to make a major investment any time soon if they purchase your house.
A new roof can enhance your home's curb appeal. Your home will stand out for its curb appeal and beauty. We have a large selection of shingle options, which means you can customize the way your home looks by choosing the most attractive asphalt shingles roofing materials.
A new roof may be cheaper in the long run. If your roof is older, you might be spending a considerable amount of money on frequent roof repair and maintenance. Although a replacement is a sizable investment, you most likely won't need to make repairs for quite some time. Even better, if you properly maintain your roof and choose the right products during your roof replacement, it can last longer than you expect it to.