When you need a reliable roofing contractor who can handle every type of roof installation, John's Roofing has got you covered. Whether the roof of your home or business needs a simple fix or extensive repairs, we've got the experience and the tools to get to work. We'll even help you navigate complicated zoning laws, obtain the required building permits, and ensure that we're within the homeowners association guidelines to make roof repairs easier on you.
Expert Roof Installation by John's Roofing
Our professionals strive to provide quality work using premium materials. That's why the company owner inspects every job that we're called to. All of our valued customers are entitled to a wide number of benefits, including:
Affordable roof repair rates
Free written estimates
Fully licensed and insured contractors
Easy appointment scheduling
At John's Roofing, we are here to help get the job done. Free roofing estimate: Call (469) 394-4386 or submit an online form.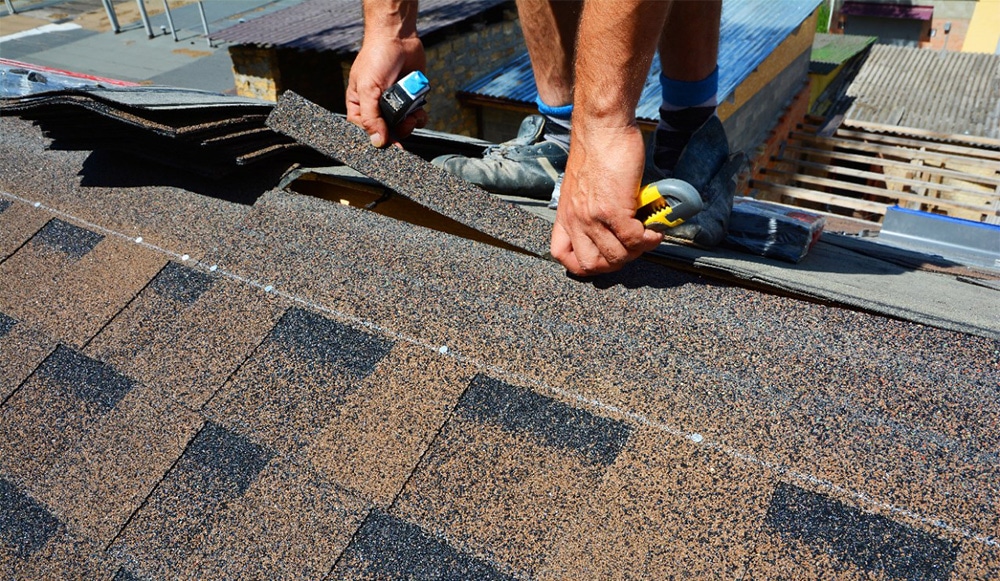 Roof Installation: What You Need to Know
Roof installation is a big deal – a new roof can provide years of protection to your home. Maybe your neighbors are starting to have their roofs replaced; maybe you've noticed damage to your roof, or perhaps you just know your roof is "aging out." Whatever the reason, here's everything you need to know about roof installation.
How Can You Tell if You Need a New Roof?
Most roofing materials are designed to last for 20 to 30 years. Some materials are more durable – like stone tiles, for example, which can last more than 50 years – and some are considered "sub-par" and don't last very long. If your roof's original installers did a poor job, your roof won't last as long as it should. But regardless of what happened, here's how you can tell that it might be time for a new roof:
You notice cracked, peeling or broken shingles
You find shingle granules in your gutters or in the yard
You notice "bald" shingles that are missing protective granules
You see "roof rot"
You notice leaks inside your home
Your roof appears outdated
Your neighbors are starting to get new roofs
Your energy bills go up without increased usage to justify the increase in cost
You can perform an interior roof check on your own – just pick up a flashlight and head into your attic. Look for daylight coming in through the roof beams, dark streaks, and stains on wood that could indicate moisture incursion, sagging areas, and visible leaks or water damage. If you see wood-rotting inside, or if you see damp spots (frost during winter counts), there's a good chance that water has gotten into your home through the roof.
You can also look at your roof from the outside. However, you should never get on top of your roof if you're not positive that you can be completely safe – and certainly never when the roof may be slippery. (Additionally, if you have some roofing materials, such as slate tile, you shouldn't walk on them – so be mindful before you climb up there!) Visually inspect your roof from the ground and look for dark streaks, moss or algae growth, rotting wood, decaying shingles, damaged chimney or skylight flashing, or signs of shoddy workmanship from the original installation (such as things not being lined up quite right).
All of these may be signs that your roof is too old or damaged and that it may need to be replaced – but the best way to tell is by calling a roof installation expert to inspect your roof. Your inspector will look for signs of damage on the roof's surface and inside your attic, as well as note wear and tear that develops over time. You should have your roof inspected at least once a year, and certainly, have it inspected after a severe storm or high winds.
A good roof installer will tell you if you can simply repair your roof rather than replace it. However, in some cases, the roof is too old to repair; in other cases, it would cost more to repair than it would to replace.
What Should Be Included in a Roofing Estimate?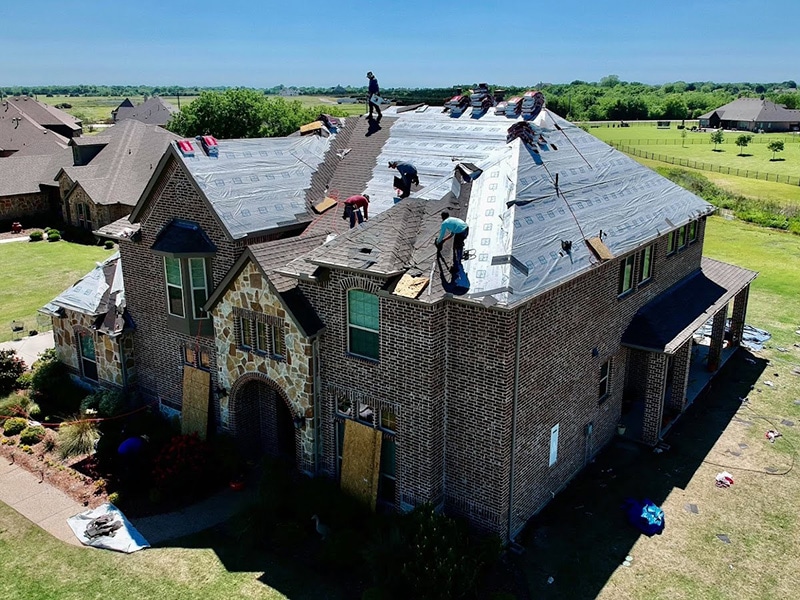 When you have a roofing contractor give you an estimate, there are several things that should be included. Other than the company's contact information (such as the name, address, phone number, website address, and email address), you should also look for things like:
Insurance and licensing information. If a roofing contractor isn't insured, do not use that contractor – you definitely need to work with a company that carries the right type of insurance.
A full, detailed description of the work the contractor will perform. All the roofing materials, the type of underlayment the roofer will use (as well as its thickness), flashing locations and other information should be in the estimate. The tear-off of old roofing materials should also be there, and each step of the process should be defined and easy to understand.
Start date. You need to know when the roofing contractor will begin work on your roof installation. Usually, you can move that date so it's convenient for you.
Completion date. Your roofing contractor should include a projected completion date so you know exactly how long your roof installation will take. Barring unforeseen circumstances, a good roofing contractor will complete a job when it's supposed to be completed. (Naturally, bad weather and things out of the contractor's or your control – such as a damaged shipment of roofing materials) can impact your roof installation's completion date.
A list of the materials your contractor will use. All the materials that go into a job play a big role in its cost. For example, if you're using standard asphalt shingles, your roof installation will cost less than it would if you were using authentic slate tiles. Look for prices on shingles or tiles, flashing, soffit components, parts (such as those for gutters) and other products, such as sealants. It's important that every piece of material is accounted for in the estimate so you know exactly how much you'll spend.
The project's total cost. Your total cost includes materials and labor, as well as the tear-off and clean-up of your old roofing materials. It should include the cost of the underlayment, the ice and water barrier chimney work, skylight work, permits, vents and everything else that goes into the project.
Warranty information. Your roof installation estimate should include information on warranties and guarantees that your contractor offers. There should also be a section that includes information on workmanship guarantees, guarantees on materials, and even what to expect from the cleanup process.
Our Promise To You
You can ask a roofer questions about the company's experience, what types of projects they've done before, and even how long they've been in business. You can also ask questions specific to your job, such as what materials the roofer recommends and which types of shingles will be the most cost-effective for you. We suggest asking:
How long have you been in business?
Do you have local jobs you've done that I can go see?
Who will install my roof – are they employees or subcontractors?
What licenses and insurance policies do you have?
What steps will you take for safety, both for your workers and for me?
When can you schedule my roof installation?
How will you remove materials that are torn off my home?
What happens if there's inclement weather?
Will you be able to provide me written warranties and guarantees for workmanship and the products you'll install?
How will you protect my property from damage during the roof installation process (and the tear-off process)?
What if the wood in my roof needs to be replaced? How much will it cost, and what are your procedures?
Who will oversee the entire project?
How do you handle payment?
What kinds of things can affect my final price? Could my cost increase after we've signed an agreement, and if it does, how do we handle that?
Will you replace my skylights?
Will you revamp my roof ventilation system?
What Questions Should You Ask a Roofer?
Your roof is the main component of your home that keeps you protected. At John's Roofing, we take our work of providing homeowners the best protection our roofing systems have to offer very seriously. We accomplish this by never cutting corners. When you hire John's Roofing for your next roof installation project, you can expect the following:
Personable customer care. We take time to listen to your needs. We'll keep open lines of communication throughout the duration of your project so you're never "left in the dark" when it comes to the work we're doing on your home.
Respect. We understand that a roof replacement can be an inconvenience to your daily routine. Our roofing contractors show up on time to every job site. We work efficiently and respect your property by cleaning up our mess. We're also respectful of your budget and will work with you to come up with cost-effective solutions.
Excellent workmanship. When it comes to our workmanship, we have the highest standards. We pay close attention to detail and stay up-to-date on the industry's latest practices and trends. Our results are long-lasting and backed by impressive warranties.
Call the Preferred Roofing Contractor in Dallas
The team at John's Roofing has over 20 years of experience in the roofing industry. We ensure quality installation with every job we take on. We offer both commercial and residential roofing services. Call (469) 394-4386, or submit our online form for a free estimate today.