Emergency Roofing Tips
When you're dealing with an emergency roofing situation and you know that you'll need storm damage repair, the key is to not panic. That's the number one tip we can offer. A few others include:
Control – You want to control the situation. First and foremost, assess the damage where possible. If there is water coming into the house, control the water by collecting it in containers for the time being.
Cover – Do not let your furniture or possessions endure significant water damage. Cover your items with plastic sheets to save them from leaks.
Call – Call for emergency roofing service in Dallas, TX, immediately!
Expert Emergency Roof Storm Damage Repair in Dallas, TX
You've had your roof professionally installed. You've scheduled regular roofing maintenance. Unfortunately, roofing emergencies sometimes occur. No roof is 100% immune to intense winds, heavy rain, tornadoes, or hurricanes. In that event, John's Roofing provides 24/7 emergency roofing services including storm damage repair in Dallas, TX!
Our skilled, experienced roofing experts will arrive swiftly at your location to assess the damage and work directly with your insurance adjuster. When you decide to hire us for storm damage repair, you can expect a hassle-free, fast, economical, and convenient experience from start to finish.
Emergency Roof Leak Repair
A roofing leak may occur at any moment. It takes one strong gust of wind during an intense storm to remove a bunch of shingles. From there, water from rainfall will seep into your home. You need immediate results. There's no waiting for the situation to rectify itself.
John's Roofing offers 24/7 emergency roof leak repair. We'll send an experienced team straight to your doorstep to handle the leak. We're available right now. If the storm is too severe, we can provide a temporary resolution until quality repairs can take place!
Why Choose Us
John's Roofing is the top choice for local roofing emergencies & storm damage repair. We are certified and experienced in handling roofing repairs of any scope. Whether you're dealing with a simple leak or a full-blown roofing emergency, we can help!
We offer free roof inspections to check that your roof is in good working order and that there is no wind or hail damage.
Now Is The Time To Request A Free Inspection!
Contact John's Roofing At (469) 394-4386.
High winds can rip shingles from your roof, leaving the roof deck and underlayment vulnerable to the elements. Wind can also cause shingles to lift and curl by ripping the adhesive barrier that holds them together. As a result, your roof is exposed to wind-driven rain and other risks brought on by severe wind storm damage and you will need storm damage repairs.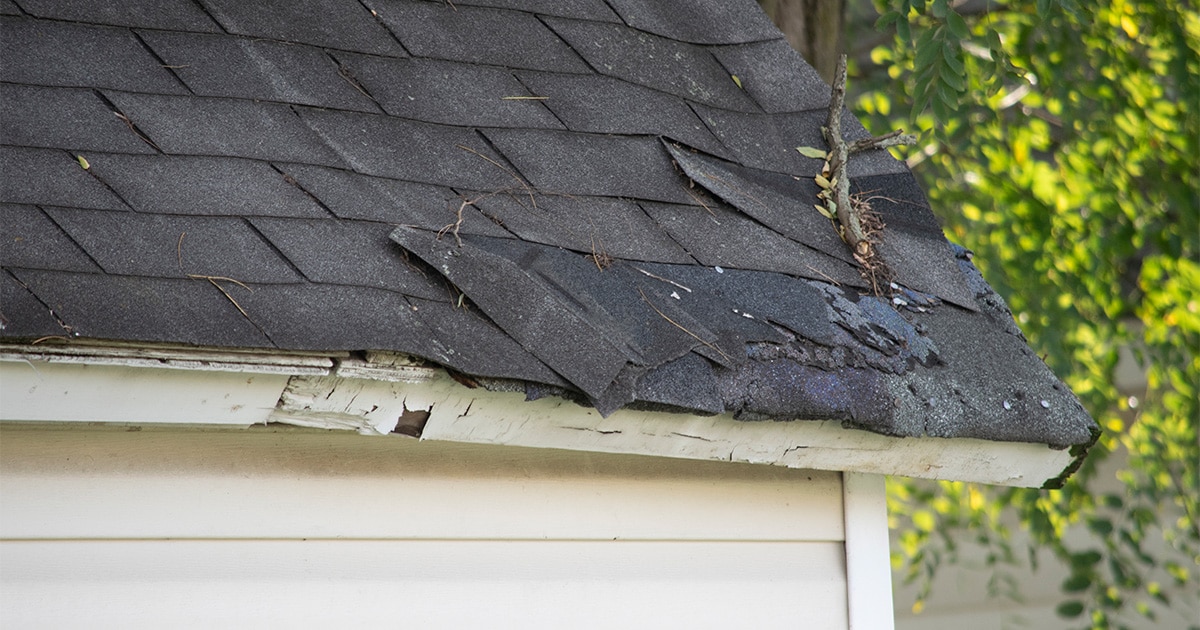 What Are the Signs That Your Roof Has Been Damaged by a Storm?
There are various indicators that your roof has been damaged by a storm, the most obvious of which is the presence of leaks in your home. (Leaks are a serious problem.) Remember that water in your roof gets worse over time; the longer you wait to fix it or get storm damage repairs, the worse it will get. Storm damage repairs become more expensive with delay.)
You may uncover the following when you visually inspect:
Shingles that are missing
Shingles with bald areas
Debris on your roof or in the vicinity of your home
Shingles that have been damaged by hail
Gutters and downspouts that are clogged or broken
Your roof's ice dams
Deterioration of your roof's supports or embellishments
There's a lot of moisture in your attic.
Tips to recognize each sort of damage and how to recognize it and respond:
The first sign of storm damage is missing shingles.
The presence of missing shingles indicates that your roof has been damaged by a storm. By walking around your home's exterior from a distance, you can generally identify missing shingles or roof tiles.
The issue is that shingles and roof tiles are the top layers of your roof, and they protect everything underneath them. There's a method for water to seep inside your roofing materials if even one shingle is missing. Significant water damage can then ensue.
If you notice missing shingles, especially after a storm, contact John's Roofing for a free roof inspection right away. Call (469) 394-4386
Sign #2 of Storm Damage: Bald Spots on Your Shingles
Small, protecting granules cover the shingles. Those granules help your roof shed water, but they can't do their job if they're absent. Some of your shingles may have "bald spots," which can emerge as a result of aging or after a storm.
Shingle granules may also be found in your gutters, along your downspouts, or in your yard just beneath your roof line. If you discover granules or bald places on your roof, talk to a roofing professional about your alternatives.
Loose Debris on Your Roof or Around Your Home (Sign #3 of Storm Damage)
Loose debris on your roof or around your home after a storm could signal that your roof has been damaged.
You should contact a roofing contractor straight away to schedule a free roof inspection because not all storm damage is evident from the ground.
You'll need a certified professional to inspect your roof and make sure it's still standing after a storm.
Hail-damaged Shingles are the fourth sign of storm damage.
Some of your shingles may appear dented, which is fairly usual following hail damage. If you don't have shingles on your roof, some of the tiles may be cracked or damaged.
Again, shingles and tiles are the first line of protection for your roof; if they're cracked or damaged, the layers of roofing materials behind them won't be protected.
Clogged or broken gutters and downspouts are the fifth sign of storm damage.
Storm debris can easily clog your gutters, but thankfully, this is a simple remedy. You can clear your gutters on your own. However, some storms are severe enough that wind and flying debris (including hail) can damage your gutters, preventing them from safely transporting water from your roof to your downspouts.
If your gutters have been damaged by a storm, you should get them inspected and repaired or replaced as soon as possible to avoid further problems related with gutter failure.
Now is the time to get a free roof inspection!
Call John's Roofing today at (469) 394-4386.
Ice Dams on Your Roof is Storm Damage Sign #6.
After a winter storm, ice dams can form on shingled roofs that haven't been properly maintained. When snowmelt re-freezes on the roof's surface, ice dams form.
The sight of icicles is one clue that you're dealing with ice dams; you might also notice a large, icy patch on your roof when gazing at it from the ground.
If you have ice dams on your roof, you should have a professional come out as quickly as possible to assess it for damage. When water melts, it compresses; when it re-freezes, it expands – and that expanded water can be beneath shingles.
Water might push your shingles out of place if it expands beneath them. Worse, the ice will ultimately melt, exposing the roofing elements that the shingle was supposed to protect.
Damage to Supports or Accents (Storm Damage Sign #7)
It's difficult to tell if your roof supports are damaged in many circumstances, but search for spots that appear to collect pools of water when it rains. Check the flashing (the connecting material that seals out water around anything that protrude from your roof, such skylights or chimneys) to verify if it's in excellent shape. Anything that allows water to penetrate the layers of roofing materials beneath your shingles is a bad thing.
If you see sagging areas on your roof or damaged or missing flashing around accents on your roof, you should arrange a free roof check right away. Water problems never get better with time; they always become worse, and the cost of repairing them rises.
Moisture in Your Attic is Storm Damage Sign #8.
You shouldn't have moisture in your attic, but many people have, and they don't realize it until it becomes a bigger problem. After a storm, check your attic to see if it's damp; if it is, water may have made its way in.
While you're in there, search for moist areas on the wood, frost, or mold. Each of them is an indicator that there has been a water intrusion.
Is Storm Damage to a Roof Covered by Insurance?
Contacting and dealing with your insurance company is the last thing on your mind while you're dealing with storm damage. We'll be there to help you every step of the process, making sure you receive the roof you require.
Roof damage following a storm is often covered by insurance. For roof coverage, our team of professionals can assist you in dealing with your insurance company. We'll:
Conduct a roof check and provide a free quote for any necessary repairs.
Assist you in contacting your insurance carrier in order to file a claim.
Represent your interests when an adjuster from your insurance company comes to inspect the damage to your roof.
Double-check your insurance papers to make sure it's all in order.
Provide a written agreement for the work we'll do to repair your roof.
Review your Insurance Statement of Loss and submit extra invoices for payment to your insurance company.
Arrange for the installation of your new roof and complete all of the work indicated on the Statement of Loss for the amount your insurance company will cover.
Coping with your insurance company is the last thing on your mind while you're dealing with storm damage. We'll be there to help you every step of the process, making sure you receive the roof you require.
Now is the time to get a free roof inspection!
Contact John's Roofing today at (469) 394-4386.
We Repair a Wide Range of Storm Damage
The following are the most typical types of storm damage:
Damage caused by hail
Damage caused by the wind
Debris on the ground
Damage from Hail
Hailstones can easily dent, bruise, break, or smash roofing and siding components as they fall thousands of feet from the sky. Hail damage might be difficult to spot with the untrained eye. After a storm, our qualified personnel will inspect the area for any signs of hail damage.
Damage caused by the Wind
High winds can raise and shatter the shingle's adhesive seal. During a storm, if wind-blown debris enters the shingle layer and stops the shingle from re-sealing, the shingle will need to be repaired. We do wind damage inspections to detect these issues before they become a source of water infiltration.
Debris in the Air
Tree branches and other large objects can fall on your roof during a storm, causing costly impact damage. One of our licensed roofers will clear the debris and devise a plan to restore your roof.
Checklist for Storm Damage
Walk around the perimeter of your property after a storm has passed to examine your roof for storm damage. Look for visible indicators of deterioration, such as shingles that are missing, cracked, or lifted.
Examine your gutters and windows for dents and cracks.
Look for fallen tree limbs, broken fences, and landscaping damage.
Inspect your home for leaks and water spots, particularly in the attic and on the ceilings of upper rooms.
Expert Storm Damage Repair in Dallas, TX
Whether it's the roof of your home or business, our contractors at John's Roofing are highly experienced and have all the tools required to make needed storm damage repairs.
Using only premium materials, you can count on us to make repairs that'll last.
When you need roof repair service to keep the roof over your head, you can count on John's Roofing. With our help of our experience, you can rest assured knowing that your roof is in good hands.
Get a Free Roofing Estimate by John's Roofing today. Call (469) 394-4386 or submit an online form.