John's Roofing is a professional Dallas roof repair company headquartered in Rockwall, TX that serves the whole Dallas-Fort Worth metropolitan area. We offer complete roofing services for both residential and commercial at a reasonable price.
The Advantages of Hiring a Professional for Wind Damage Roof Repairs
John's Roofing has over 20 years of experience in handling roofing repairs of any scope. We deliver our roof installation on time and within the given budget. Our customer testimonials prove our solid workmanship, excellent customer service, and premium materials. Whether you're dealing with a simple leak or full-blown roofing emergency, we can help!
A free inspection is the first step in our roof repair process. We'll come up with a realistic strategy to restore your residential or business property after we examine the wind damage. We can also help you with your insurance claim and make sure you get the best deal possible.
Why We're the Best Option
When you engage John's Roofing for a roofing project, you can be confident that we have the expertise, high standards, and skill set to manage any roofing task. We can install the greatest goods the roofing industry has to offer because of our affiliations with top-tier manufacturers.
We have completed intensive training to earn the title of GAF Master Elite® Certified roofing contractor, and we continue to strive to fulfill the needs of our growing customers. We believe in open lines of communication, meticulous workmanship, and friendly customer service.
Our Roof Repair Experts Can Assist You
It might be difficult to know where to begin the restoration process after a hurricane has hit your property. Wind and storm damage restoration services are available from John's Roofing to restore your property and prevent it from further damage.
You can also contact us by filling out our online form or calling (469) 394-4386, and one of our helpful employees will contact you within 24 hours.
Want to learn more about wind damage to your roof? Continue reading below.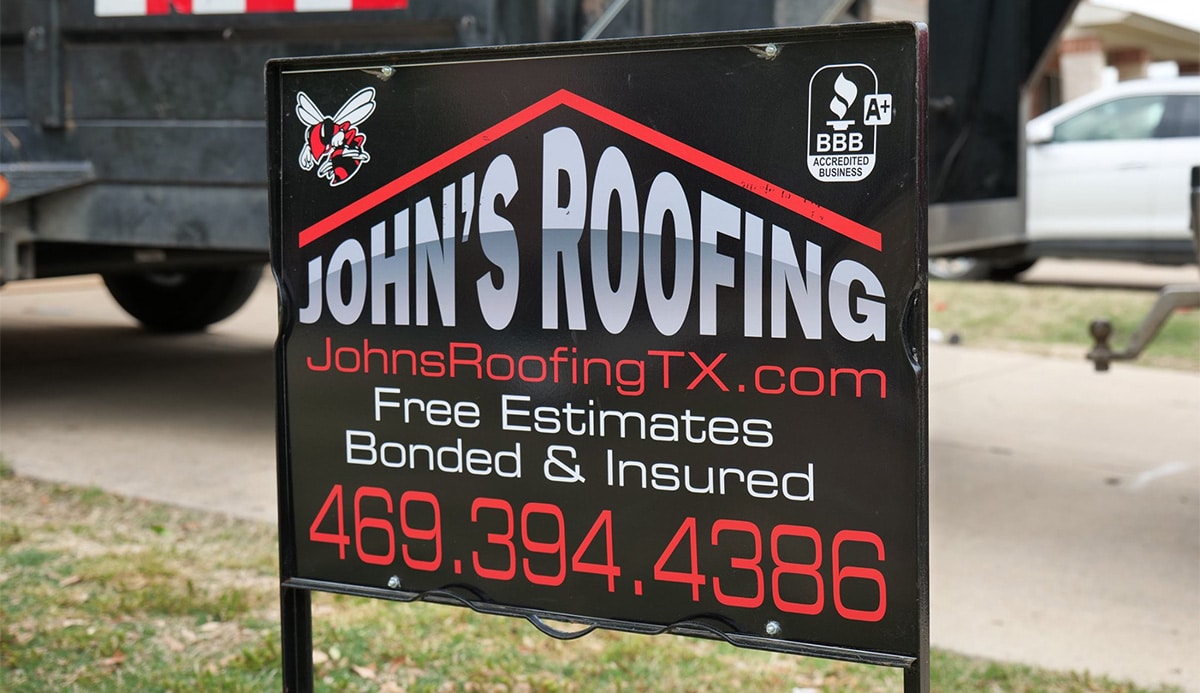 How to Determine Whether Your Roof Has Been Damaged by a Storm
Winds of more than 50 miles per hour are considered damaging, but even low-speed winds can cause damage to your roof. Despite the fact that well-built, high-quality roofing materials may withstand storms better than their low-quality counterparts, any roof can be damaged during a Texas hurricane.
A leak in your roof is the most visible evidence that your roof has been damaged by a storm. You may see a few droplets of water in your attic or a large hole in your roof that is leaking water. If you're like most folks who have experienced storm damage, yours will fall somewhere in the middle.
One thing is clear, however: roof leaks do not improve with time. They only become worse over time, and the longer you wait to fix a leak, the more extensive (and costly) the damage becomes.
Other indicators that your roof has been damaged by a storm are:
Shingles that are missing
Shingles with bald areas
On your roof, there is a lot of loose material.
Shingles with dents
Gutters and downspouts that are clogged or broken
Your roof has ice dams.
Moisture in your attic can be seen
Growth of mold or mildew
Roof Inspections Are Free
Regular roof care can help you save money by extending the life of your roof and avoiding premature replacement. John's Roofing, a reputable Dallas roof repair company, will provide you peace of mind that your home is safe.
Inspection on Schedule
High winds can cause shingles to be lifted from their permanent locations on your roof, which is a major issue. Shingles are the first line of defense against the weather on your roof, protecting numerous layers of roofing materials beneath them.
If your shingles are missing or slightly raised after a storm, call a professional to inspect your roof for any symptoms of damage. Shingles that are missing should be replaced as soon as feasible.
Shingles with Bald Spots
Asphalt shingles have small grains on them that assist them to absorb water and reflecting harmful UV rays from the sun.
It's typical for these granules to loosen or fall off over time, and your shingles may lose their protective coating entirely after a storm. If you notice bald spots on your shingles or small shingle granules in your gutters or near your downspouts, you should call a roofing professional immediately once.
On Your Roof, There's a Lot of Debris
Debris, such as tree branches and other materials, might be blown onto your roof by strong winds. Although most roofs are strong enough to keep items out, the impact could damage your shingles or roof tiles. Damaged roofing materials will eventually leak. When water enters your home, it can cause a variety of problems, including wood rot, mold, and even a roof collapse. A leaking roof can potentially jeopardize the structural stability of your home.
Shingles with Dents
Foreign objects have impacted your shingles, causing dents, which can cause serious problems – especially if the impacts have loosened or dislodged your shingles. If you discover dents in your shingles, cracks in your tiles, or damage to any portion of your roof, you should contact a roofing professional right once to assess the situation.
Gutters and downspouts that are clogged or broken
Gutters that are clogged or broken can cause major difficulties for your home. You should inspect your gutters as soon as possible after a storm. Obstructions obstruct the normal flow of water, therefore remove any clogs you encounter. When water cannot flow down your gutters, it overflows, leaving wet mounds of leaves and debris against your home. These damp piles can enable moisture to enter the timber that supports your roof, resulting in mold or wood rot, both of which affect the structural integrity of your roof.
Gutter damage is a critical issue for the same reasons as broken gutters, but for different reasons. Your gutters' sole purpose is to direct water safely away from your home's foundation through a downspout. They can't do that if they're broken, which means water would leak into the earth around your house. Your basement can leak and your foundation can break if there is enough water spillage, both of which are major (and costly) issues.
Moisture in Your Attic Can Be Seen
Look for signs of moisture in your attic. Water-stained wood on the rafters, a moldy or mildewy odor (or apparent growth), frost buildup during the winter, or damp insulation are all symptoms of moisture. If you find moisture in your attic, even if it only feels damp inside, you should contact a roofing professional immediately away. If you catch and repair the problem early enough, you may be able to avoid significant complications.
Growth of Mold or Mildew
Mold and mildew growth in your attic and on your roof's surface can cause major issues. Both of these signs point to a moisture problem, and moisture and roofing don't mix. Look for symptoms of mold or mildew on your roof, especially in shady areas. If you observe discoloration or spores, contact a roofing professional as soon as possible. Similarly, if you discover mold or mildew in your attic, or stains on your ceiling or walls that could suggest mold or mildew growth, it's time to schedule a free roof inspection with a professional. We'll let you know what we can do to resolve the issue before it worsens.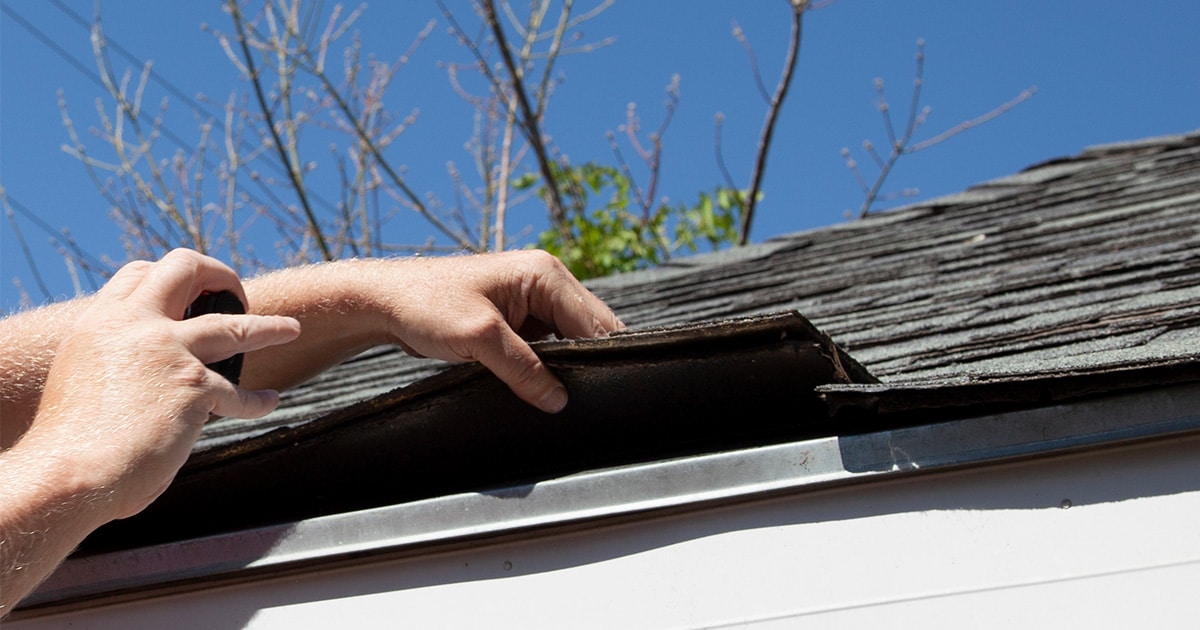 What Is the Price of a Roof Inspection?
Roof inspections are provided free of charge by John's Roofing. Simply phone our office and let us know when we should come out to inspect your roof for damage. We'll send a professional inspector to your property, and if any damage is discovered, you'll receive a thorough report right away. We'll also discuss your choices for repairing your roof so you can avoid having to replace it entirely.
What Is the Price of a New Roof?
Although we wish there was a simple answer, there are far too many variables to provide a reliable estimate for the cost of a new roof. We can tell you the following:
The cost of your new roof will be heavily influenced by the roofing materials you choose. Slate tiles, for example, are more expensive than asphalt shingles, so depending on the materials you choose, you'll spend more. Also, keep in mind that roofs cover your entire house, so even if individual tiles appear to be inexpensive, you'll need a lot of them to cover your complete roof.
Your final cost will be heavily influenced by the amount of damage to your roof. You'll spend less money if you simply need to replace part of your roof, or if you only need shingles rather than a total tear-off and rebuild, than if you require a complete roof replacement.
We guarantee our work and can guarantee that you'll be happy with the end result, regardless of your budget. Our professionals will assist you in selecting the appropriate materials and doing the task swiftly and efficiently. It is our mission to uphold our outstanding reputation as Dallas' most dependable, inexpensive, and trustworthy roofing contractors, and we take it very seriously.
Get in Touch With Us Right Now
Get a Free Roofing Estimate by John's Roofing today. Call (469) 394-4386 or submit an online form.